Why Choose Us?
If you're searching for quality office furniture in the Atlanta metropolitan area or the contiguous 48 states, look no further than Office Furniture Expo. Established in 1981, Office Furniture Expo is proud to be Atlanta's #1 office furniture resource for more than 40 years and counting! From furniture to furnishings and accessories, our 100,000+ sq. ft. Showroom features everything you need for a corporate or home office. We also have our own delivery and assembly crews, as well as designers on-hand to make redesigning your office as hassle-free as possible.
We are centrally located in Doraville and are well known for our wide selection of new and used office furniture. We provide you with the best in Atlanta office furniture from the world's top office furniture manufacturers. Connect directly to dozens of office furniture manufacturers we represent including HON, Corp Design, Created Harwood, Global, Boss and many others. Our staff of sales professionals are helpful and attentive without being overbearing and are happy to help you put everything together.
You won't find an Atlanta office furniture store that is quite like ours!
Office Furniture Expo | Consumers Choice Awards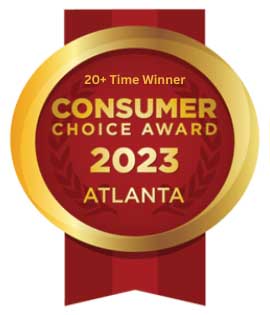 The Consumers' Choice Award™ is an initiative of the Consumers' Choice Institute, which has retained a leading independent research firm to conduct surveys in major Canadian and U.S. cities. It is unique in North America as the winners are determined by consumers and not by a panel of judges. It covers a broad range of categories of interest to both the public and business communities. Its purpose is to publicly identify those establishments that have been voted by consumers as being their choice for excellence. The Consumers' Choice Award™ is a most prestigious tribute to businesses that serve their clients well. The program is encouraged by all levels of government and by business leaders.
Office Furniture Expo has been awarded the Consumers' Choice Award for over 20 consecutive years.
MON TO FRI 9:00 AM – 5:00 PM
SATURDAY 11:00 AM – 5:00 PM
SUNDAY CLOSED
[trustindex no-registration=google]
Office Furniture Expo
Average rating:
0 reviews